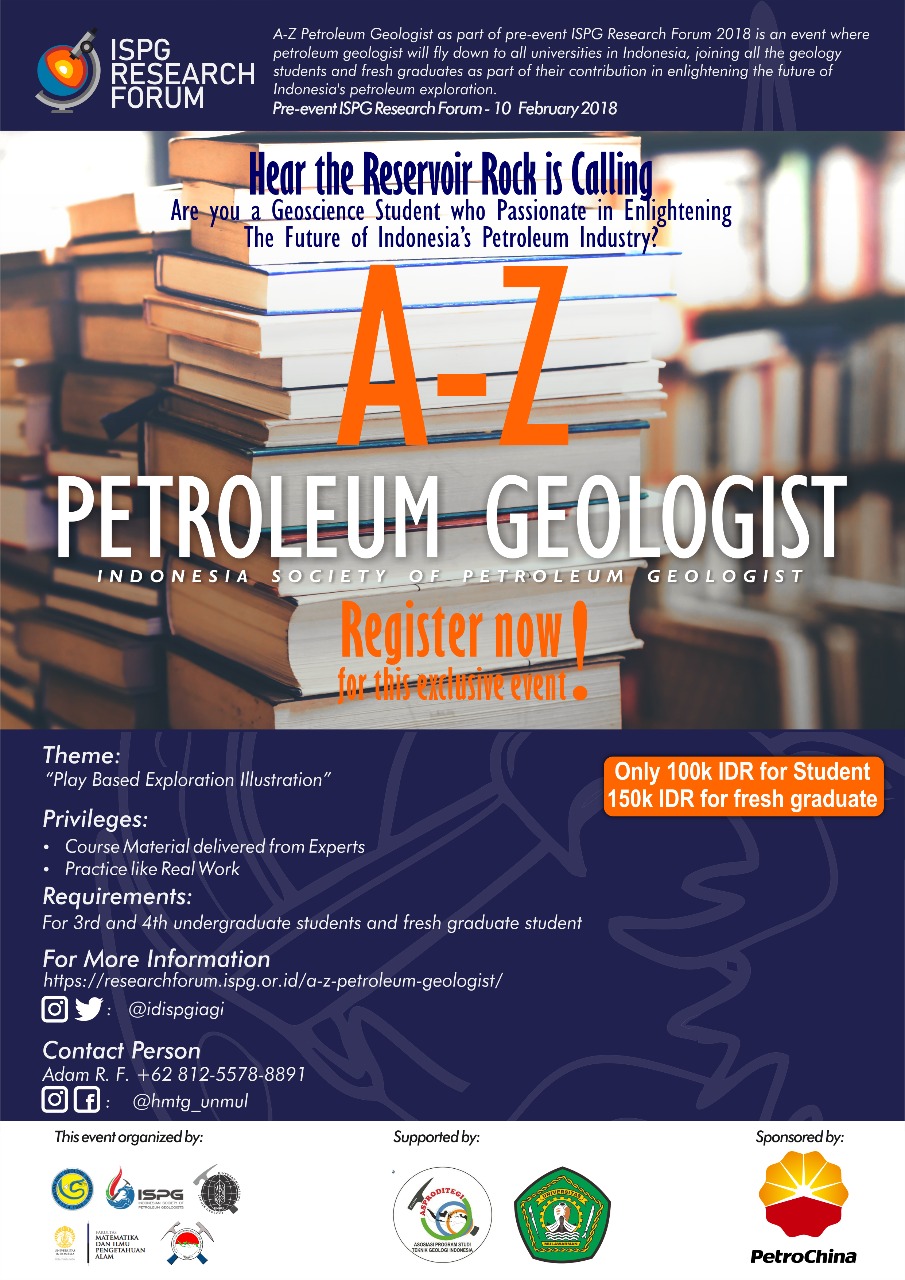 ISPG and HMTG UNMUL proudly present
A-Z PETROLEUM GEOLOGIST 2018
.
IT'S TIME!! IN OUR CAMPUSS
What is A-Z PETROLEUM GEOLOGIST??
A-Z PETROLEUM GEOLOGIST is a part of pre-event of 2nd ISPG Research Forum. Where are profesionals in Petroleum Geologist will fly down to 36 Universities spreaded on Indonesia. This event will be held at the same time in whole invited Universities including UNIVERSITY OF MULAWARMAN!!

.
c'mon 3rd/4th years studs, join us and upgrade your skill about Petroleum Exploration in focus petroleum geologist or in general
Take apart with us and picked up all benefits
WHATS UP ON THIS EVENT :
WORKSHOP
– Tema : Play Based Exploration Illustration
– Waktu : 08.00 WITA – Selesai
– Tempat : Kelas besar Fakultas Teknik
Link pendaftaran https://docs.google.com/forms/d/e/1FAIpQLSeWUxTGNH7iMkctfdPzGXQHVIovJWKUR8ZD4EP2yEIHifUcuw/viewform
HTM : 100K For student, 150 for fresh graduate ( include modul, workshop kit, snack 2x and lunch)
Cp:
081255788891 [Adam Rahmad Firdaus] line @firdausadam12
Contribute for Enlightening the Future of Indonesia's Petroleum Exploration

.
So, let's and join us!!
Note :
– Batas pembayaran 7 februari 2018
– pembayaran melalui tunai atau via tranfer antar bank (456401001569500) bank bri a/n adam rahmad firdaus
– bagi yang melakukan pembayaran melalui via transfer bukti pembayaran dikirim via line @firdausadam12 atau whatsapp 081255788891
– kuota workshop hanya 40 orang